With ONA21 kicking off this week, we'd love to help our attendees learn how to get the most out of this online event. This post outlines tips and guides for getting the most out of the conference. Plus, you can watch our video orientation for the highlights and a visual walk-through of how to navigate the schedule.
Start the fun early by logging in to your account today, June 21, to join:
Review the schedule
Over four days, we'll host over 50 sessions and meetups and offer something for everyone. With your ONA21 registration, you'll have access to all of the learning sessions that interest you, plus most sessions will have recordings available as soon as they conclude (check the screen icons on the schedule page to check which sessions will have a recording). We'll post any resources the speakers give us permission to share underneath the session once we have them.
The conference is organized around four focus areas, with each educational session sorted to appeal to:
Session topics are naturally porous, and you may find many that appeal to you, but the lists above should help you quickly find priority sessions out of the dozens we're offering.
ONA21 learning opportunities, coded orange on the schedule, offer best practices and vision-setting conversations.
ONA21 networking events, coded green on the schedule, offer a range of experiences including professionally-oriented social receptions like the Women's Leadership Accelerator Reception (June 24) and the Potluck for Journalism Educators (June 23).
Log in and explore our conference platform
To access all things ONA21:
Log into your ONA21 account with the email address you used to register.
Head to the Lobby, your home base for getting around to sessions, exhibitors, networking, career opportunities, support and more.
When you're ready to attend a session, navigate to the schedule page and click through to a specific session to access the video feed and live chat.
When click into session, you should see something like this: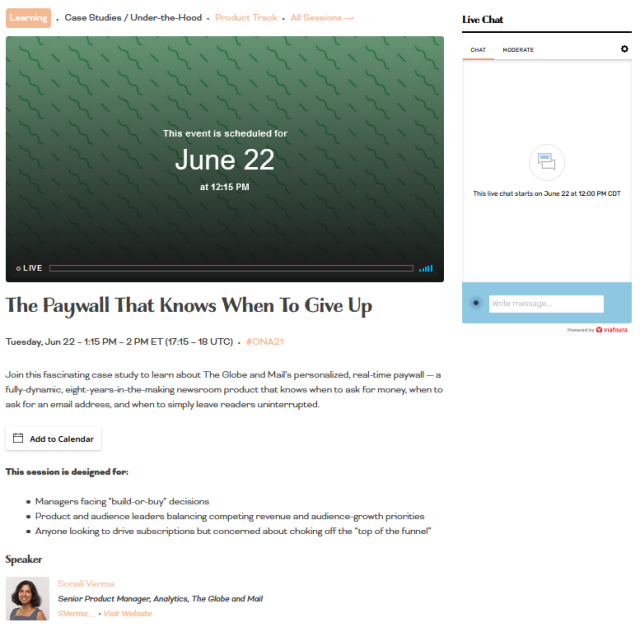 The speakers' talk will stream via video directly on the session page. You'll have the opportunity to participate in a live text chat with other attendees and ask questions while the session is streaming. Chats will open about five minutes before the session begins and close 15 minutes after it ends.
Each session will have a separate video chat that is optional for you to use after the session ends. These video chats are meant to provide an informal forum for people who want to digest the talk, and will not necessarily include the speakers themselves (although in some cases, they may participate!)
Think of it like this: What would happen if you stayed after the end of a session at an in-person conference and chatted with people seated nearby? You know you're interested in the same topic, because you all attended the session, and you might learn something new from what someone else took away. Just click the "Join an informal discussion after this session" button to participate.
Start networking in the ONA21 Midway on Grip
If you haven't already, check your inbox for an email inviting you to activate your ONA21 Midway on Grip networking account. The ONA21 Midway is a futures lab for journalism, bringing together the best thinking in the media technology, tools and workforce spaces.
We are hosting it on Grip, a professional networking platform where you can meet and connect with fellow attendees, exhibitors and recruiters one-on-one through text or video chat.
Each attendee has an individual profile; update yours with a picture, bio and interests. You can see who else is at the conference by searching by title, interest area, job type and more. Grip's AI will recommend other attendees you might want to connect with based on shared interests or other areas of overlap.
See also:
Share your resume and check the Job Board
Recruiters and leaders from 17 companies and schools will be available in the ONA21 Midway on Grip networking platform to discuss jobs, fellowships, scholarships and graduate programs. Get a jump on finding your next opportunity by sharing your resume with recruiters and checking the ONA21 Job Board (active opportunities from Career Day recruiters), as well as the ONA Career Center (even more opportunities!).
Get support
If you have a question, hit a tech snag or just want to chat, go old school and email ona21@journalist.org or take a newer approach and just tap the little peach icon (like the one below) in the lower right corner of your screen. Note: You'll need to be logged in to see this icon. We have a wonderful support team waiting to follow up with you. They are active 9 a.m.– 5 p.m. EDT daily, and will do their best to respond in off hours intermittently.